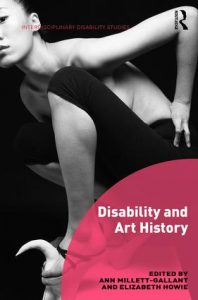 Please join the Transdisciplinary Disability Studies Reading Group on Wednesday, May 3rd 2017 from 1:30-3pm in the conference room at the Center for Humanities (3rd Floor, Literature Building) for a discussion of Disability and Art History.
This discussion will feature Dr. Amanda Cachia (who has just completed her PhD in Visual Arts at UCSD), Dr. Michael Davidson (Literature UCSD), and Shoghig Shalajian (UCSD Vis Arts).
The suggested readings for the meeting are available here for download as PDFs.
They include Dr. Cachia's chapter in the recent volume Disability & Art History (Routledge 2016).
Coffee and light refreshments will be served!
All are welcome, please spread the word. Accessibility requests can be directed to Dr. Cassandra Hartblay (chartblay@ucsd.edu).