Through this curatorial blog post, I intend to highlight and remind my audience about the key terms and the aboutness statement I coined for my patrol report volume; provide scope for my audience to understand the relationships I draw between my patrol report volume and a couple of our assigned course readings; and connect the overall course themes back to the patrol report research I personally conducted. As a refresher, my patrol report volume is comprised of patrol reports based on kiaps' observations in the Yangoru region of the East Sepik province of Papua New Guinea (PNG), from 1953 to 1956. My patrol report volume was one that was comprised of quite a diverse set of experiences and observations. During these past couple of weeks, I have been in the process of unpacking one-by-one the varied set of cultural and logistical observations the patrol officers reported in my volume. While reading this curatorial post, please keep in mind that the patrol report volume that is being discussed constitutes alleged observations by the Australian kiaps, or patrol officers – the volume is not an indigenous/native primary source.
As a segue into more detailed descriptions and analysis regarding my patrol report and how it tied into our course readings, I would like to list the key terms and the aboutness statement I coined for my entire patrol report volume. The key terms I chose to characterize my patrol report volume by are the following: infrastructure, topography, native affairs, native diet, and coming of age.
The first term, infrastructure, reflects the actions the patrol officers took to understand the preexisting infrastructure of the Yangoru region, and how preexisting infrastructure could meet their Euro-centric infrastructural ideologies to help them establish an economic stronghold in the region. As I mentioned in a prior blog post, the entire volume involves discussion regarding the building of roads, schools, and other facilities to acclimate the kiaps with the new environment of Yangoru and provide them with man-made sensibilities to them that reflect a sense of familiarity for them (i.e., familiarity with their previous surroundings). More specifically, I would like to take this opportunity to describe the actions the kiaps describe in their patrol reports, that they took to facilitate economic and infrastructural growth in the region. The region Yangoru, and a nearby region Maprik, were identified as fruitful areas for rice growing and cultivation. As such, the patrol officers supposedly facilitated inter-regional transportation and resource accessibility, by identifying potential areas for developing and constructing roads. In particular, a road between Yangoru and Maprik proved useful in transporting and exchanging paddy rice. The roads ended up being constructed in such a way that a variety of vehicles could tread them; they [roads] also met the goals set by the patrol officers to facilitate effective and efficient transportation between different regions in the East Sepik. Additionally, to facilitate infrastructural development and identification of areas where infrastructural development would be beneficial, kiaps supposedly conducted medical patrol reports throughout the East Sepik, and made efforts to identify illnesses, outbreaks, and prior calamities that contributed to high death rates in certain areas.
The second term, topography, is a term that not only reflects how the patrol report volume discusses the different features of the native land in relation to the concept of infrastructural development, but how the East Sepik province and even the smaller region Yangoru are comprised of diverse types of terrain, wildlife, and crops. As a matter of fact, the diversity of the Sepik region was showcased to the kiaps by the growth of crops in some parts of the region as opposed to others. For example, sago was not plentiful in some parts of the East Sepik, such as the mountainous and hilly areas, but it was in other swampy and marshy areas of the region.
The third term, native affairs, is used explicitly in my patrol report volume, and sections utilizing this term within the volume often involve descriptions and observations regarding the dynamic between patrol officers and the natives of the area and their cultural practices.
The fourth key term, native diet, encompasses and represents the different types of natural resources that are listed within the report, and that are integral to the local diet, including sago, yams, coconuts, and tomatoes. Additionally, pigs constituted a huge part of the local diet in some parts of the Sepik. Thus, elements of wildlife and the native diet that were observed as important in some other PNG regions, e.g., pig ceremonies and sacrifices in the Southern Highlands, were actually heralded in our region as well. Pigs, particularly in the Yangoru region were supposedly very valuable and in one of the patrol reports in my volume, the patrol officer notes "a pig usually costs much more than a wife," in the context of Yangoru during the early 1950s.
The fifth term, coming of age, is a key term that represents the kiaps' observations of the ceremonies celebrated in honor of women in this region. One such ceremony is a local type of menstruation ceremony; the menstruation ceremony's steps are described in detail within the patrol report volume. As mentioned in a prior blog post, I initially glossed over the section in my patrol report volume that covered the menstruation ceremony topic and did not read about it until we performed a quality control check of one another's reports in one of our class sessions. Last, but not least, I also read about how the kiaps observed a local tradition known as "bride-price," which was a type of local dowry practice.
Utilizing my analysis of the patrol report volume and my creation of the aforementioned key terms based on my analysis of the patrol report volume, I was able to create the following aboutness statement to characterize my patrol report volume: "This Yangoru, East Sepik district patrol report consists of a series of observations regarding the overall infrastructure of the Yangoru region in the East Sepik province of PNG from 1953 to 1956. Through the reports, the kiaps, or patrol officers, take note of the then current infrastructure, demographics, and environmental features, and how the infrastructure can be improved from a Eurocentric point of view, to lengthen life expectancies, accessibility to resources, etc. The kiaps observe the natural resources at hand, such as rice, and how these resources can be manipulated to create full-fledged industries, e.g., mills, that facilitate the ease with which goods can be exchanged, distributed and profited off of."
While beginning the task of conducting analysis on my patrol report volume, it was easy for me to fall into the trap of deeply analyzing the patriarchal, superior tone employed by some patrol officers in combination with their observations. However, upon learning about library science and cataloguing, and also utilizing not an objective lens per se, but a lens that limits analysis of tone and emphasizes analysis on content (verbatim), glossing over the patrol reports and picking out valuable information that could characterize my entire volume became an easier task. Objectivity however, is something that is impossible to achieve, when it comes to any task. Even as a STEM major, you can never be objective – there are different paths that can be treaded to reach a certain solution or to establish a premise for a certain theory and there are different implications, positive and negative, for discoveries that are made, e.g., genetic engineering, DNA replication, artificial intelligence. Thus, how can an anthropological study like this, whose premise is fueled by the dissecting of complex human emotions such as greed, curiosity, and awe, even be diluted to a completely objective analysis? When we examine this concept of metadata, it becomes apparent that the concept itself is reminiscent of the game "telephone" – one reports a summary to one's intended audience, then a member from that intended audience summarizes that summary even further, and then a member from the intended audience of that aforementioned member summarizes the summary yet again. The summary at the end of it all may turn out to be a completely diluted version of what the original summary was and would definitely reflect the opinions of each and every summary writer, so there will never be any pure objectivity in this process. I believe this element of inevitable subjectivity is covered extremely well in our course reading, The Organization of Information, 4th ed., by Daniel N. Joudrey and Arlene G. Taylor. As Joudrey and Taylor state, "Information professionals (and LIS students) are only human after all. Although information professionals are expected to remain neutral, there is a human tendency to judge the information that we encounter, whether it is a bad first impression from cover art or lasting doubts about some creators' evidence to support their claims. With some controversial resources or resources representing an opposing point of view, judgments and preconceptions may be unavoidable" (Joudrey and Taylor 2018, 1941:451).
Additionally, as I reflected on earlier, several portions in the patrol report employed a patriarchal tone, which definitely plays a role in how analysis of these patrol report volumes can be subjective at times. A point of view that reminds of this type of tone is a segment from the course reading In Colonial New Guinea: Anthropological Perspectives, edited by Naomi McPherson. As stated in the reading "Although colonialism is decidedly an act of aggression, field officers such as Mack [Ian Mack, former kiap] were constantly enjoined that the object of the exercise was 'peaceful penetration and pacification.' The indigenes were not an enemy to be conquered but were rather like wayward children to be disciplined into civility" (McPherson 2001:92).
Overall, taking this course and engaging in research via these patrol reports was an eye-opening experience for me. Furthermore, connecting the research to our course readings further cemented my belief regarding how informational and library science can never be purely objective. Thus, therein this science lies an inherent beauty, just like any other scientific endeavor – bringing different perspectives to a work enhances one's discovery of the resources a library has to offer, and cognizance of the fact that there are a vast amount of perspectives that are yet to be uncovered and shared with the world.  I did not even know where PNG was located on a map, so to engage with these sources and see how others viewed this country was amazing. Some research I hope to conduct in the future includes an anthropological study regarding the relationships between PNG and other countries such as Indonesia – I have heard that when Indonesian presence engulfed a portion of PNG, concepts from Sanatana Dharma provoked discussion between natives who predominantly practiced animism, and found several overlapping concepts between the ways of life. I also hope to contribute to bringing Optical Character Recognition (OCR) to the patrol reports and hopefully, help to bring more indigenous works to our library. These would definitely be exciting endeavors for me.
Thank you to our professors, Cristela and Rachel, for bringing all of us together to share our diverse perspectives regarding the research we conducted on our given patrol report volumes, and thank you to my peers for helping me learn so much.
To end this post, here is an image I found very interesting from our UCSD PNG Collections. The following is an image of a bride-price ritual: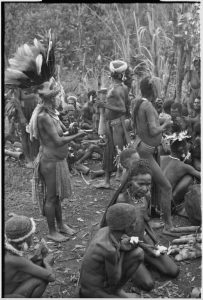 Bride price ritual: bride and others eat food provided by groom's group, December 1962. Edwin Cook Papers. MSS 0187. Special Collections & Archives, UC San Diego. https://library.ucsd.edu/dc/object/bb1469030x
In this image, the groom's side of the family provides food to the attendees.
PNG Patrol Report: East Sepik District, Yangoru, 1953-1955
References
Joudrey, D. N., & Taylor, A. G. (2017). The Organization of Information (4th Edition ed.). ABC-CLIO.
McPherson, N. M. (2008). In Colonial New Guinea: Anthropological Perspectives. University of Pittsburgh Press.