At most research clinic visits, men and women were sent separate questionnaires asking about specific health and reproductive issues, as well as use of specific medications. Questionnaires were completed at home and reviewed for completeness during the visit. At Visit 12, there was no sex-specific questionnaire administered to men.
Women
Men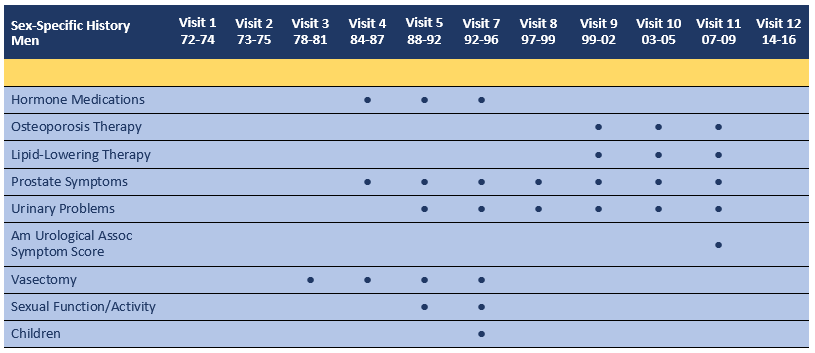 Annual Mailer Sex-Specific Health History Data
Many of the questions on Sex-Specific Health History that are available at research clinic visits are also available in select Annual Mailers. Data are available on a variety of additional topics including facial hair, preventive gynecologic procedures, postpartum depression, the FSFI (Female Sexual Function Index), and PCOS (polycystic ovarian syndrome) history for women, and the IEFF (International Index of Erectile Function), the ADAM (Androgen Deficiency in the Aging Male) questionnaire, and Viagra use for men. See the Annual Mailers Data Summary Table for details.
Note: Annual Mailer data are available in cross-sectional datasets for each Mailer and are not included in the Sex-Specific Health History longitudinal data sets for men and women. See the Annual Mailers tab for details