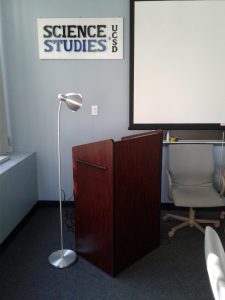 Thanks to everyone who attended the first program meeting of the year yesterday evening. It was conducted at a brisk gallop so that the more masochistic among us could go home and watch the debate.
Welcome to the new cohort! They are Rachel Fox, Gabi Schaffzin, Angelo Haidaris, Alanna Reyes, Bobby Edwards, Trischa Tschopp, Carolina Mayes and Stephen Reynders.
Some noble souls volunteered: Bobby Edwards and Rachel Fox will be in charge of the vote for the student choice speaker. Davide Carpano and Carolina Mayes will be the Graduate Student Association representatives. And Rebecca Hardesty, whose intellectual mission it is to bring philosophy and science studies into a more fruitful dialog, will organize a student conference for Spring this year. As for the faculty, the departmental representatives are David Serlin in Communication, Cathy Gere in History, Kerry McKenzie in Philosophy and Martha Lampland in Sociology.
The colloquium will begin next week with Emma Frow from Arizona State University talking to us about synthetic biology. Anyone interested in the cutting edge of the life sciences should find this a really rewarding session. Her talk is entitled "Making big promises come true? Negotiating standards and value in synthetic biology," and it examines how engineering principles were used in the development of the 'BioBrick,' the prefabricated modular unit for building synthetic cells. (Please note how nicely the title fits with the 'Future-Casting' grant idea below.)