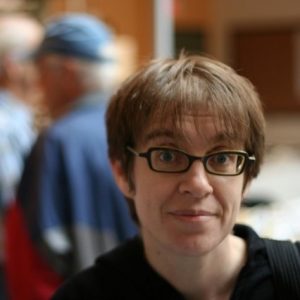 American Metabolism is the title of Hannah Landecker's forthcoming book, from which her superb colloquium talk on Monday was drawn. Beginning at a sub-molecular level, Landecker first took us through the ways that metabolic processes are implicated in gene regulation. In other words, she explained how a dietary regime can switch gene expression on or off, findings from the relatively new field of 'nutritional epigenetics.'
For Landecker, nutritional epigenetics represents a change in the way that the life sciences configure the relationship between the individual and her environment. As she wrote in an earlier article: "This is a model in which food enters the body and in a sense never leaves it, because food transforms the organism's being as much as the organism transforms it. It is a model for how social things (food, in particular) enter the body, are digested, and in shaping metabolism, become part of the body-in-time, not by building bones and tissues, but by leaving an imprint on a dynamic bodily process."
For the purposes of the talk on Monday, she focused on the transformations undergone by arsenic as it is metabolized in the human body. One of the most canonical of poisons, arsenic is present in trace amounts in air, food and water. Prolonged exposure to arsenic has been linked to certain forms of cancer, skin lesions, increased heart disease risk, neurotoxicity, and diabetes. As Landecker explained, low doses of arsenic do not act by attacking and destroying, but through their ability to be taken up and incorporated into normal metabolic and epigenetic processes. In 2012, researchers discovered elevated levels of arsenic in baby food sweetened with brown rice syrup.
Using arsenic as a tracer, Landecker's talk radically reconfigured the relationship between bodies and environments, following arsenic from its emergence as a byproduct of copper smelting, to its use as a growth promoter in chicken feed, to its biological take-up in rice plants fed on chicken shit, to its metabolized forms in the human digestive tract, to its possible epigenetic effects. The scope and ambition of her analysis is matched only by its precision and clarity, working at multiple scales to complicate the relationship between science and society.
Under Landecker's pitiless scrutiny, metabolism becomes an interface where the distinction between inside and outside, individual and society, microcosm and macrocosm, breaks down. Her analysis makes the social relations through which industrial agriculture wreaks its effects on human health more visible, and therefore more available for far-reaching and sober critique. American Metabolism will certainly be a landmark in the field and a model for how to do Science Studies in a robustly realist and yet unsparingly critical vein.