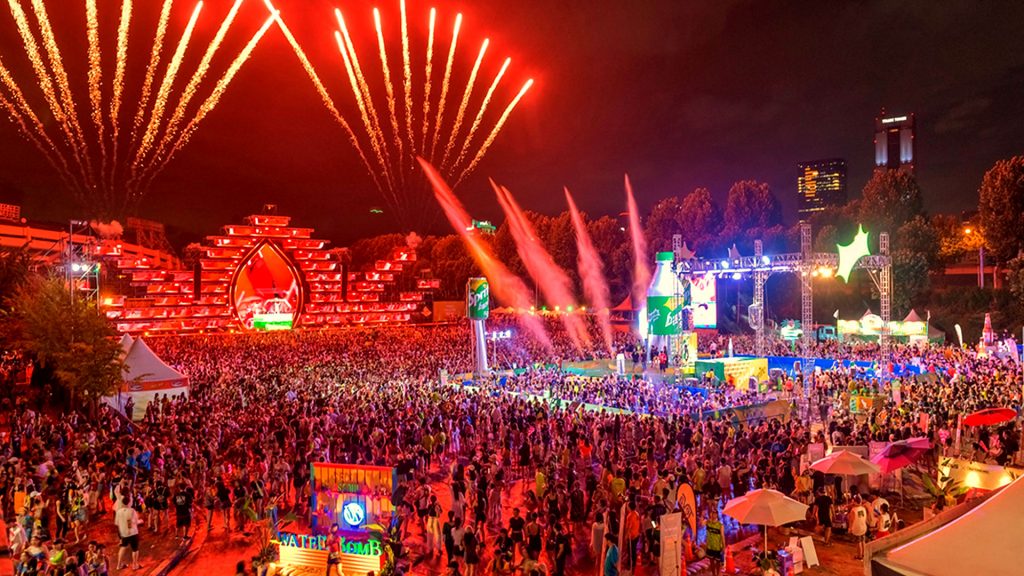 There were so many things to do in Korea while I studied at Yonsei International Summer School through UCEAP, but the number one thing I knew I had to do was attend WATERBOMB. WATERBOMB is a summer music festival that takes place in different cities in South Korea. It is known not just for great lineups but also for the fact it's a combination of a music festival and a waterpark. Everyone told me it was a great time and it did not disappoint!
I attended the second day of the Seoul festival in July 2019, which meant I got to see iconic artists like Hyuna, Zico, Crush, DPR Live, and more! I was already exhilarated at the idea of seeing some of my favorite performers live, and that exhilaration multiplied exponentially the second I stepped foot on the festival grounds. Immediately a mob of people with loaded Nerf water guns greeted me, joyful screams and laughs surrounding me. It only took a few moments for me and the people I went with to buy some water guns for ourselves–we simply couldn't resist the fun of WATERBOMB! 
From water gun wars to a giant pool sponsored by Sprite and massive water canons on the stage, it was like the ultimate summer activity imaginable. We couldn't walk any more than a few steps before getting attacked by water. It didn't matter; we fired right back!
The best part, though, was being in the crowd. We went to the stage before big artists performed, so we were really close to the front. That meant we got a great view of the artists–I even managed to land a hit on Crush with my water gun–and were right in the middle of the splash (or, rather, flood) zone! I truly have never been that wet in my life; it felt like two or three oceans poured on me for an entire night. I'm not exaggerating when I say I was still soaking wet when I got off my hour-long subway ride and even later when I hopped in the shower at the end of the night. 
No matter how impossible the idea of being dry seemed, it was absolutely worth it! I laughed a lot, and, when I wasn't laughing I was aggressively singing and rapping along to my favorite songs (it was hilarious to see the shocked looks from the people around me when I didn't miss a beat of Hyuna's set). All of that being said, I cannot recommend WATERBOMB enough to anyone who wants to spend their summer in Seoul; it is the best music festival I have ever been to (sorry Warped Tour) and I am so happy I spent a summer day at the best kind of waterpark!