Remaking the technological world

As part of its broader mission of supporting arts and humanities research on campus, the Institute of Arts & Humanities is launching initiatives that support faculty and students in critically engaging with emerging digital technologies for their research and teaching.

Resources for the 21st Century Arts & Humanities Scholar

We provide support to faculty, researchers, and students in the form of consultations, training, talks, co-sponsorship, digital tools, and website building kits.

A collaborative and inclusive digital research community

Our initiatives are dedicated to expanding the channels of participation to emerging digital technologies and practices for a broad set of interests and uses. Read more about our newly-launched digital commons, digital humanities research group, and more.

Inspiring digital scholarship

We bring scholars, educators, and practitioners to talk about their work in digital arts and humanities. Ask us about co-sponsorship opportunities and stay tuned for future events.

Digital tools and methods training

Participants of all skill levels are invited to attend our workshops on new digital tools and methods. We also strive to keep the community updated on related training events across campus.

Campus Digital Projects

Interested in engaging with digital arts & humanities but don't know where to start? Check out these digital arts & humanities projects on campus for inspiration.
Digital technologies are changing the way knowledge is produced, shared, and accessed both within and beyond the university. Read more below about how projects, resources, events, and training are helping guide this transformation on campus.
Transformative Projects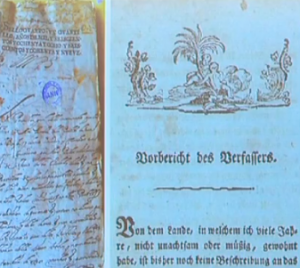 History Professor Christine Hunefeldt and History Graduate Student James Deavenport use GIS and big data methods to help support the cultural and ecological preservation of the Amazon.
Have a project to share?
Let us know if you have a digital arts & humanities project you'd like to share with the campus community. Email Erin Glass at erglass@ucsd.edu.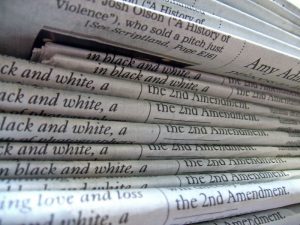 Conceptions of Nature in Public Discourses
Razvan Amironesei, a postdoctoral scholar of the Center on Global Justice, is using computational methods to illuminate underlying conceptions of nature in contemporary public discourses about water scarcity in California.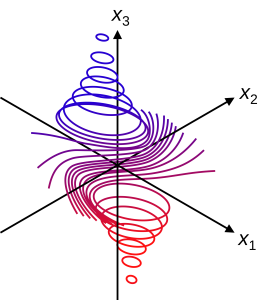 Communication professor Stefan Tanaka's project "1884" experiments with the possibility of a nonlinear history of Meiji Japan through electronic forms of publication.
Consultations
The IAH provides one-on-one consultations on implementing digital components into student and faculty research, teaching, or funding proposals. Write Erin Glass to learn more about digital humanities/pedagogy methods at erglass@ucsd.edu.
Talks, trainings, & discussion groups
The IAH regularly hosts or collaborates on digital arts & humanities talks, trainings, and discussion groups to educate students, faculty, and staff on emerging research. All are welcome!
Digital arts & humanities community building
The IAH is dedicated to cultivating a collaborative and inclusive digital arts and humanities community on campus by hosting regular events, providing digital publishing and networking tools, showcasing research, and connecting practitioners across disciplines and programs.
KNIT, a digital commons
The IAH is proud to present KNIT, a digital commons for UC San Diego that offers numerous digital publication tools to all campus members. Use KNIT to create customizable websites for research, courses, and professional websites, create topic-based groups, and network with other campus members.
These signature initiatives of the Institute of Arts & Humanities are dedicated to expanding the channels of participation to emerging digital technologies and practices for a broad set of interests and uses.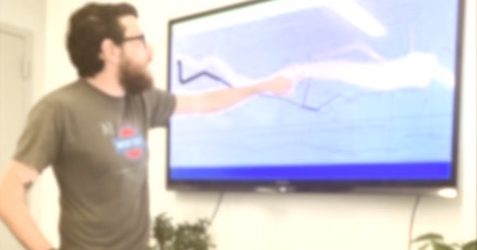 All are welcome to join our bi-monthly discussion group where we discuss readings related to digital arts & humanities, workshop digital projects, and share information. Stay tuned for Fall 2017's reading list.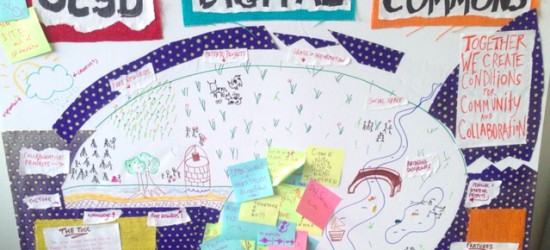 Use the newly-launched digital commons, KNIT, to create websites for your research projects or classes, create topic-based discussion groups, and network with the UC San Diego community.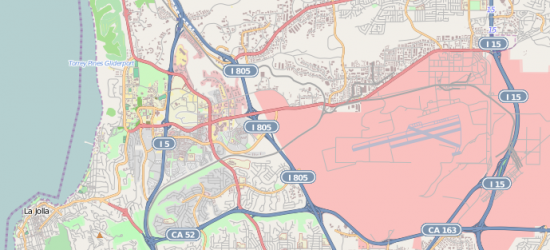 Race and Oral History in San Diego
History Professor Luis Alvarez and Ethnic Studies Professor Yen Espiritu are designing a course where students will produce digital oral histories with local residents as a public resource.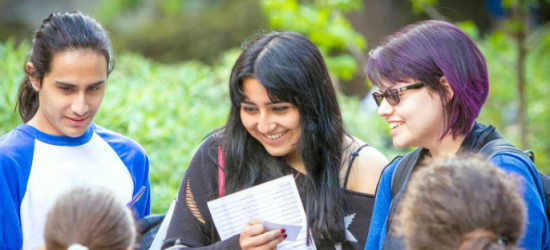 As part of the Mellon-funded "Activating the Humanities" collaboration with the San Diego Community College District, IAH is providing resources and training for digital pedagogy, multimodal publishing, student networking and professional student presence online.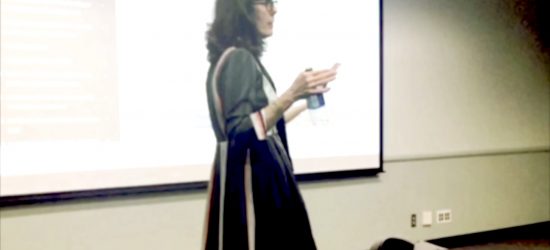 USC Professor of Cinema + Media Studies Tara McPherson gave on a talk on "Ambivalent Designs: Feminism, Race + the Digital Humanities." Co-sponsored by the Race, Gender, Nation, & Empire in Digital Scholarship research group, IAH, and the Library. Check out her article "Designing for Difference" on the freely-available, non-linear digital publishing platform Scalar that she co-founded.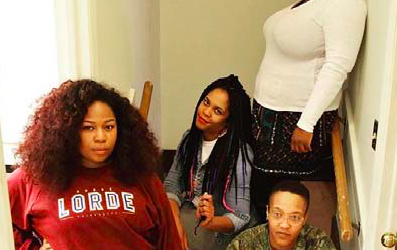 Hip hop scholar group We Levitate gave a collaborative talk on "The Asylum: Alternative Sonic Registers of Black Girlhood," hosted by the Critical Gender Studies Program at the Cross Cultural Center. Check out their music on Soundcloud.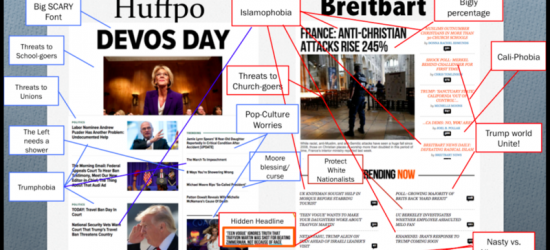 USC Director of Humanities and Critical Code Studies Lab and Associate Professor of Writing Mark Marino gave a netprov-inspired talk on "How to Teach a Fake News Course: Journullism in the Age of Trump." Co-sponsored by the Library and the IAH. Read more about the course and find teaching materials here.
Digital Humanities community
San Diego State University Digital Humanities Librarian Pam Lach shared information on emerging digital knowledge practices in her talk "Cultivating Community: Building Support for Digital Humanities in Academic Libraries."
Co-sponsorship opportunities
Interested in bringing a scholar to campus to talk on research related to digital humanities/scholarship or new media? For possible co-sponsorship opportunities, contact Erin Glass at erglass@ucsd.edu.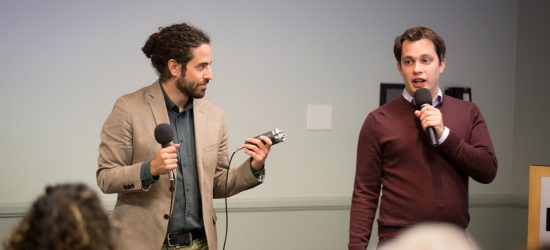 Assistant history professor Chris Gratien gave an introduction to scholarly podcasting based on six years of experience with the Ottoman History Podcast.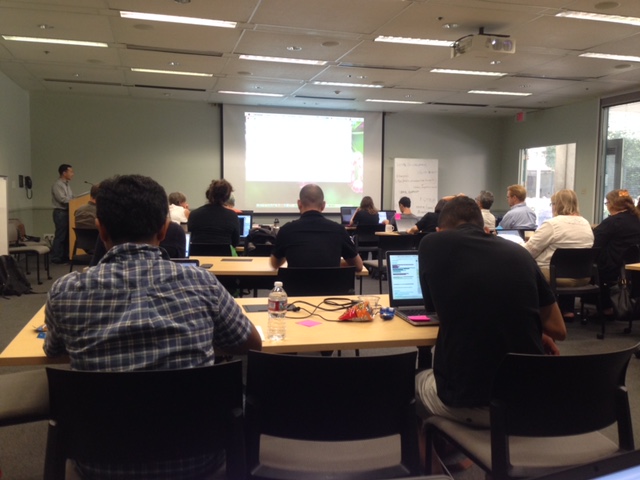 UC San Diego hosted the very first Library Carpentry workshop in the United States! Library Carpentry is part of the Carpentry movement, whose mission is to train researchers and librarians in the technological tools and computational skills needed in today's research environment.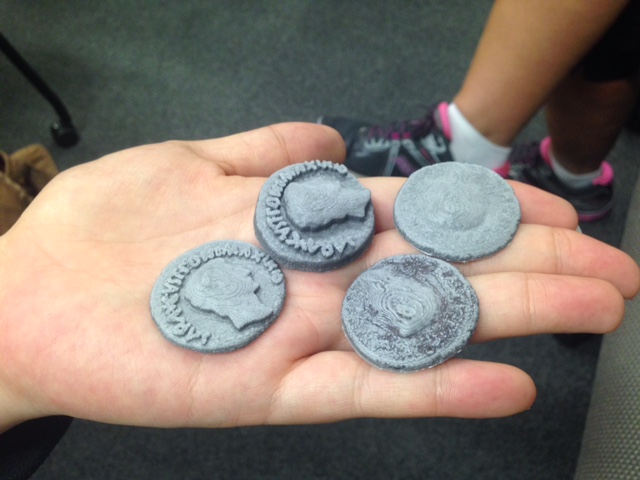 The Library held a half day series of interactive presentations and discussions devoted to introducing and exploring a broad array of topics and methods in Digital Humanities (DH) and emerging DH opportunities on campus.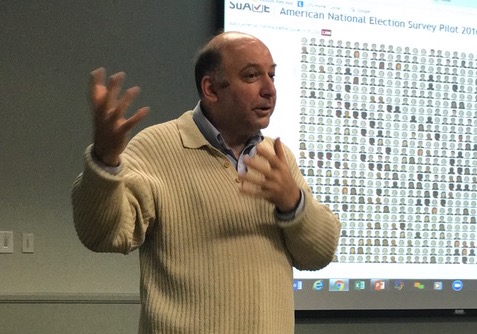 Data science can lend fresh perspective on virtually any scholarly discipline, but its practice is often limited to those who have been trained extensively in its methods. In this workshop, Ilya Zaslavsky, Director of Spatial Information Systems Laboratory at UCSD, gave a tutorial on SUAVE, a platform-based tool he's helped build for exploring data sets as varied as Salvador Dali's paintings to responses from the General Social Survey.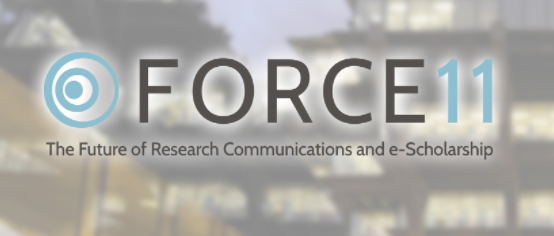 The FORCE11 Scholarly Communications Institute at the University of California, San Diego is a week long summer training course, incorporating intensive coursework, seminar participation, group activities, lectures and hands-on training. Participants will attend courses taught by world-wide leading experts in scholarly communications.
Future Workshops
Stay tuned for future digital humanities and digital scholarship workshops. And let us know what sort of workshops you'd like to see by writing Erin Glass at erglass@ucsd.edu.
Still here?
Stay updated by joining our Digital Humanities discussion group on KNIT. Students, faculty, and staff from all areas of campus are welcome to post relevant news, events, resources, and questions to the group forum. Don't forget to first create an account with KNIT by logging in with your Active Directory credentials.