The goal of the UC San Diego Geriatrics Fellowship program is to develop geriatricians who either desire to work in an academic environment as clinician-educators, focus on being strong clinicians, and/or become leaders in the field of geriatrics. This ACGME-accredited training program is one year in length and primarily designed to meet the clinical requirements for the Certificate of Added Qualifications in Geriatrics from the American Board of Internal Medicine or American Board of Family Medicine.
UC San Diego provides a comprehensive fellowship program, which offers a wide variety of quality clinical experiences in geriatric care settings, including outpatient, hospital, in-home, long-term, skilled nursing, hospice and palliative care, geriatric psychiatry, and dementia care. Most recently, a new rotation was added focused on UC San Diego's new geriatrics trauma consult service and UC San Diego's new Senior Emergency Care Unit, the first accredited Geriatrics ED in California! In addition, we have added a Program of All-Inclusive Care for the Elderly (PACE) rotation! Each rotation is designed to address the six core competency domains for practicing geriatric medicine, learning the skills required to deliver health care effectively in a changing health care market, and increasing the fellows' knowledge and application of this knowledge in geriatrics.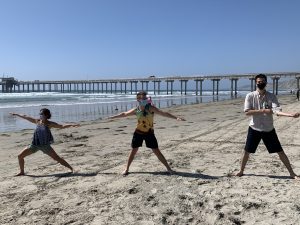 The program focuses on developing the participating fellows' abilities to effectively lead an interdisciplinary team, coordinate health care and community care systems, and optimally perform comprehensive geriatric medical assessment and consultation. The patient population represents a spectrum from well elderly to management of chronic illness and geriatric syndromes to individuals requiring end-of-life care. The program's small faculty to trainee ratio provides an exceptional teaching environment conducive to meaningful interactions.Find out more about our fellowship on the Division of Geriatrics, Gerontology and Palliative Care website.