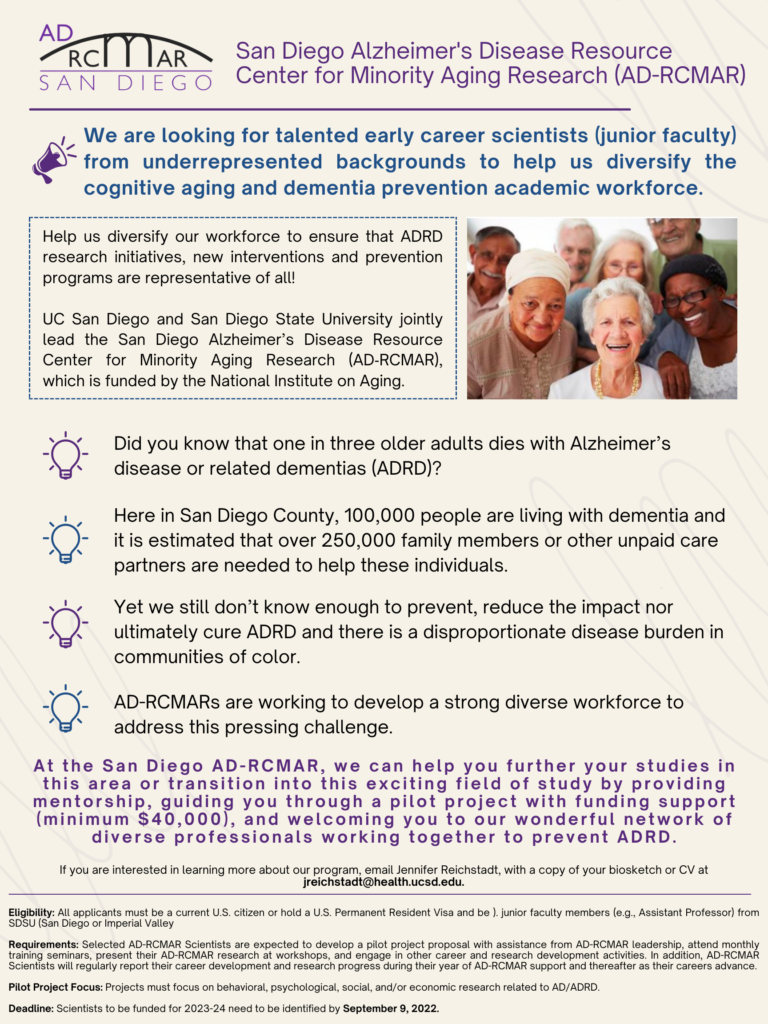 One-year pilot project awards are available at a minimum of $40,000 for 2023-24
If you are interested in learning more about our program, email Jennifer Reichstadt, with a copy of your biosketch or CV at jreichstadt@health.ucsd.edu.
Eligibility: All applicants must be a current U.S. citizen or hold a U.S. Permanent Resident Visa and be individuals from racial and ethnic groups underrepresented in biomedical and behavioral research, individuals with disabilities, and/or women (see, Notice of NIH's Interest in Diversity, NOT-OD-20-031).
Applicants should also be junior faculty members (e.g., Assistant Professor) from SDSU (San Diego or Imperial Valley campus) or UC San Diego.
Requirements: Selected AD-RCMAR Scientists are expected to develop a pilot project proposal with assistance from AD-RCMAR leadership, attend monthly training seminars, present their AD-RCMAR research at workshops, and engage in other career and research development activities. In addition, AD-RCMAR Scientists will regularly report their career development and research progress during their year of AD-RCMAR support and thereafter as their careers advance.
Pilot Project Focus: Projects must be focused on behavioral, psychological, social, and/or economic research related to AD/ADRD.
Deadline: Scientists to be funded for 2023-24 need to be identified by September 9, 2022.