This project required the expertise and collaboration of several people from different areas in the library and the campus community. The core working group was multi-generational, came from diverse backgrounds and brought together a range of skills and perspectives.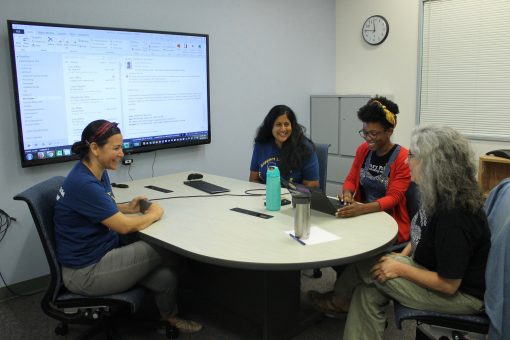 Core Working Group • Job Title • Project Role
Tamara Rhodes • Librarian for Psychology, Cognitive Science, Human Developmental Sciences, and Linguistics • Project Creator, Manager, & Designer
Cristela Garcia-Spitz • Digital Initiatives Librarian • Archives & Digital Infrastructure Advisor
Gayatri Singh • Reference & Information Services Coordinator • Liaison Advisor & Coordinator
Rachel Myers • Library Assistant • Researcher & Copy Editor
Acknowledgements
The initial project was created in a short amount of time due to the contributions of incredible folks who gave their time, expertise, knowledge, and memory. And it continues on thanks to those people and many others.
Campus Activists, Advocates, and Community Members:
Jorge Mariscal
Fnann Keflezighi
Dr. Amanda Solomon Amorao
Katie Herzog
Dr. Angela Kong
Agustín Orozco
Communication Department's "Comm Playground" project — DoUCRacism?
Paty Arroyos
Dr. Hanna Garth, UCSD Anthropology
Dr. Phoebe Bronstein
Valerie Saiag
Sudarshan Srinivasan
Dr. Erica Bender
Matt Nelson
Bobby Edwards
Belinda Ramírez
Other Library Contributors:
Joohee Lee – (former) Rights Analyst
Dorthea Stewart – (former) Outreach Specialist
Alanna Aiko Moore – liaison to campus community centers
UC San Diego Library IT Services
UC San Diego Library Special Collections & Archives
Jay Okereke, Social Sciences and Student Activism Project Assistant (2022)