We can't say we weren't warned.
After years of ignoring study after study regarding the rising shores in La Jolla, UC San Diego might be in jeopardy. According to data released by the NOAA in conjunction with Scripps Institution of Oceanography, by 2100, the west side of campus will be underwater by 3 feet affecting 10th and 11th college.
In reviewing data over nearly a 100 year period, early estimates shown that by 2075, only the most west parts of La Jolla by La Jolla Shore Drive would be impacted by the rise in sea level. However, as climate change drastically sped up between 2025-2040, these predictions changed. According to Dr. Klein Stein at Scripps, UC San Diego should prepare to either start its underwater campus within the next 5 years or be forced to move eastward.
"The Chancellor's 20 year model included an underwater college has to be reconsidered," Dr. Stein explained to The Triton. "If not, the west most side will face severe water damage and will be forced to evacuate."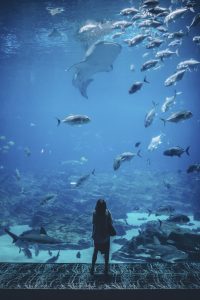 The Triton contacted the Chancellor for comment but the request was denied.
This is not the first time UC San Diego did not make proper preparations.
Scripps Institution of Oceanography used to be comprised of several above-water buildings and even an aquarium. Since 2040, the academic and research institution has closed its doors to the public and created several submerged research domes which are only accessible by UCSD staff and researchers.
As sea levels begin to rise once more, it will be interesting to see how UC San Diego responds. Whether it will be reactionary like in the past or if it will look forward to anticipate these future predictions.