We invite you to join us for the 4th Annual Research IT Faculty Showcase, featuring lightning talks by faculty from Arts & Humanities, Ophthalmology, Family Medicine and Public Health, and Scripps Institution of Oceanography. These researchers will discuss work that is underway here on our campus and give attendees a sneak peek behind the scenes into the life of a researcher.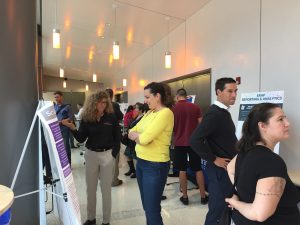 Who should attend? We welcome all members of the UC San Diego community who are interested in the research that is underway at our university – faculty, staff researchers, postdoctoral scholars, graduate and undergraduate students should find this of particular interest.
Why attend? UC San Diego brings in over $1.2B of research annually. Learn more about funded research activities at faculty lightning talks (beginning at 3:00pm), and browse service provider posters to learn about advanced research computing services available to researchers on our campus.
Tuesday, April 23
2:30 – 5:00 pm
Atkinson Hall Auditorium
light refreshments provided
This year, our distinguished speaker lineup includes Vice Chancellor of Research Sandra Brown who will offer opening remarks prior to lightning talks beginning at 3:00 pm by:
Cristina Della Coletta – Dean of Arts and Humanities
Linda Zangwill – Professor of Ophthalmology
Mike Goldsby – Affiliate Researcher for Paul Mills, PI, Professor of Family Medicine and Public Health
Steve Diggs – Technical Director (CCHDO) for Jim Swift, Karen Stocks, PIs, Scripps Institution of Oceanography
Register Now!For more information and a complete list of poster presenters, visit our website.