On Wednesday, June 28, the RITS team attended the UC San Diego Campus LISA (Large Installation System Administration) conference, held annually at the Rady School of Management. It was a day-long event, jam-packed with information. The day began with an opening keynote address by Michael Corn, Chief Information Security Officer, and was followed by breakout sessions highlighting four topical tracks – Sysadmin, Dev Talk, Culture, and Vendor Talk.
Attendees learned about telecommuting, reporting using Tableau and Cognos, Amazon Web Service projects currently happening on campus, coding, and power and influence in the workplace. With such wide variety, there was something for everybody! Late in the day, works in progress were shared by many ITS areas in a lightning-talk format – a great way to learn about what is happening on campus and what's on the roadmap. Attendees enjoyed opportunities to network with other IT folks and indulged in learning new things outside their areas of expertise.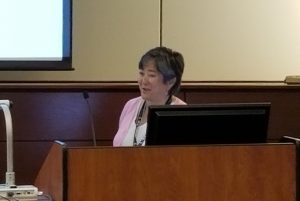 Thank you to the Campus LISA committee for a great, informative event!