Are you a researcher who will be traveling this summer in the course of your work? If so, take just a moment to review this important information! There are steps to be taken to ensure that your equipment and data do not fall victim to potential cyber threats and attacks.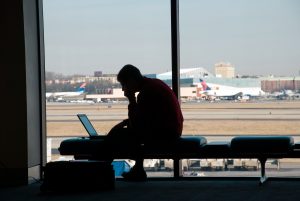 In today's world, the dangers around us cannot always be seen, but they are potentially just as devastating and debilitating as those that can be.
Ask yourself these questions:
If I was unable to access any of the information on my laptop ever again, what effect would that have on my research?
If my data files or writing documents were lost or corrupt, how badly would that set me back?
If the answer to either of those questions leaves you feeling a bit queasy, well, you're not alone. And chances are that much more than just your research would be affected by a catastrophic event. Digital attacks are not uncommon and it's critical that you know how to protect yourself and understand precautions and safe practices when using unknown (and potentially unprotected) networks and public spaces.
Research IT Services and IT Services Security have put together some resources and tips at the following links to help you prepare for traveling with your computer and peripheral devices.
Still have questions? Please contact us!  Research-it@ucsd.edu