The Front Gallery
On Friday, May 4, I went down to the youth center, but unfortunately, when I got there Mirna said they were closing early for the day. I only got to do some paperwork that Casa Familiar wanted to be filled out. While I filled out the paperwork Mirna mentioned that the art gallery that Casa has had an exhibition on display at 6pm and encouraged me to check it out.
I went to the gallery and was able to see the exhibit they had called Día de la Mujer. The arts submitted for the exhibit were amazing and there were all types of art mediums in the exhibit. Some pieces were interactive, engaging, and critical. The artists did a were great!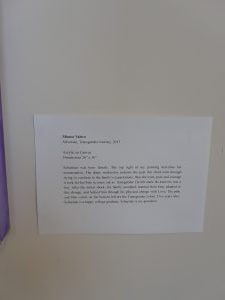 Meeting the Staff
On Monday, April 30, I went to Casa Familiar's Youth Center to see the space and meet the staff at the youth center. The visit to the center was great because I got to see how the students used and interacted with the center. What I found interesting and insightful was Mirna, the youth coordinator at the center. After, she gave me a tour and let me know what other activities they do at the center. . . We started to talk about to get to know each other more. Mirna asked if I was from San Diego and what I wanted to help the youth center with. I let her know that whatever it is that she and the center needed I could help. As we talked I found out that her mom works at UCSD as a custodial janitor and that she has been at UCSD for a few years now. I thought it was just interesting to hear how Mirna was connected to UCSD or even in general how UCSD can affect the families of San Diego.