---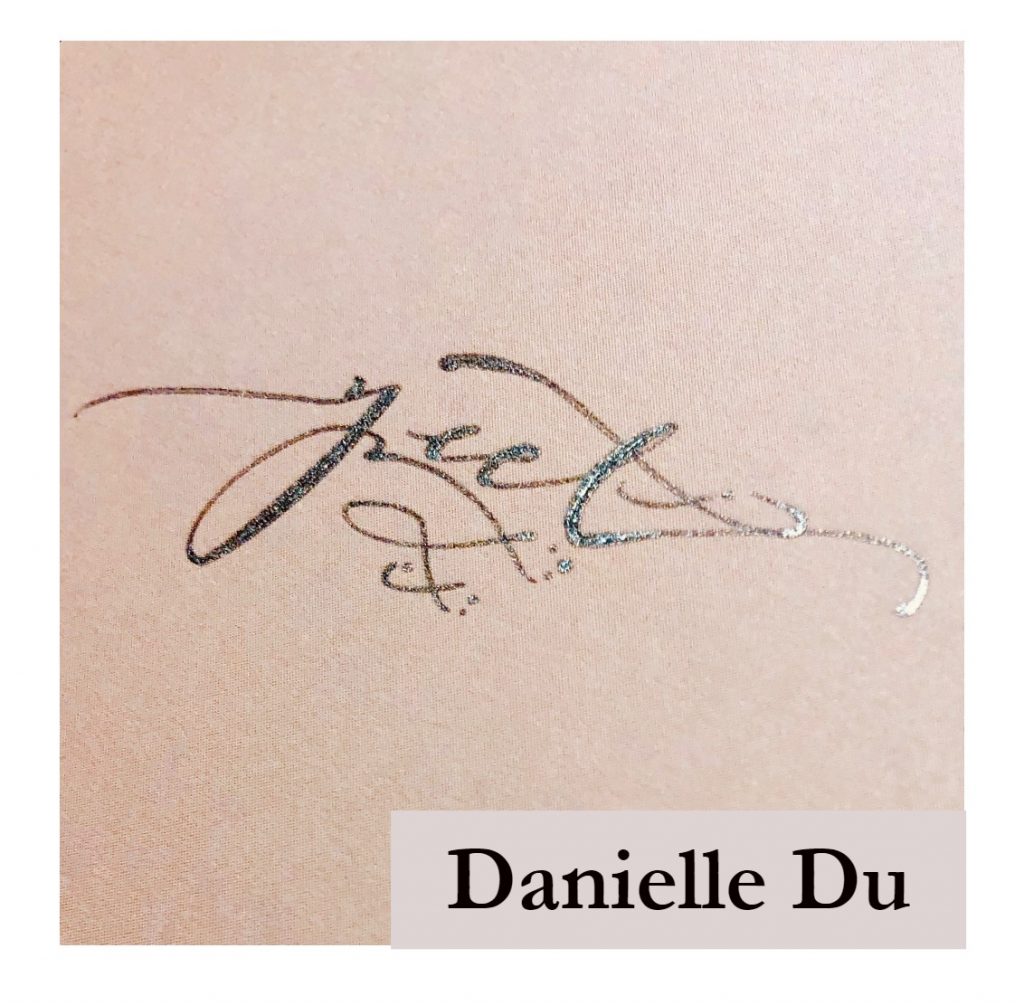 Danielle is born in Miami, FL not long after her parents immigrated to the US. Danielle identifies as Chinese-American and enjoys reading/writing, lettering, photography, and playing music. Legacies was introduced to to Danielle through Twitter and this is her first publication.

Below are the responses from Danielle Du's interview with Legacies Staff:

How did you get into illustrating or writing?
I've been writing quite literally for as long as I can remember; a lot of my childhood memories are of sitting in various places and scribbling stories onto paper. As I got older, I spent every moment of my spare time in elementary/middle school either reading or writing, and I began sharing my work online when I discovered sites like FictionPress and fanfiction.net. As for lettering art, I've always been fascinated by fonts and handwriting and when I stumbled across a few lettering artists' accounts on social media, I decided to try it for myself! I decided to add my own twist on it by incorporating photography, inspired by photo edits and graphics I saw within fandom.

What inspired you to contribute to the project? (Why did you want to contribute to this project?)
I've been dying to be a part of an anthology/zine/etc. for a long time, and I also had been dying to write something based on my AsAm identity, so this came at a perfect time!

How would you describe, or summarize, your submission?
A reflection on the impossible-possible things we are, as the walking legacy of our ancestors.

Why did you choose to write/illustrate your specific submission? (What was the significance of your submission?)
Poetry is sort of a "natural" medium for me when I want to express personal sentiment; I struggle with that a lot more when it comes to prose, and I knew I couldn't capture what I wanted to express fully with just lettering.

What was the hardest things to write/draw about? (I.e. revisiting a trauma, self-realization, etc.) In other words, did you struggle to write/draw a certain aspect?
At times, it felt like the concept I was trying to capture was too big for the paper. I've faced this a lot with my writing before, but this felt different because it was tied to a facet of my identity I'd never written about before. It took a lot of self-reflection and long walks with my dog to finally get the words I felt would suffice to express what I felt, and even then I only had a single stanza sitting in my document for the longest time.

It was also a struggle to unite the parts of my poem. Most of the time, I start with a single concept and go wherever that takes me, but this one proved itself yet another exception when I came up with multiple ideas I wanted to put in one poem. I did end up scrapping a lot of concepts — at first the ocean motif was paralleled by something to do with a bridge, but it got too convoluted, and I wanted to incorporate incense and paper money somehow but it never quite fit.

What were the most important things you wanted to hit on in your submission? (What did you want to highlight?)
The duality of distance and connection: I personally feel this constantly, being in university and away from my family for the first time in an area with fewer Asians than at home. At the same time, though, this seems to strengthen the connection I feel to my identity, and I feel like I've cherished it more than I ever have before. That embraced contradiction is, essentially, the basis of my entire work.

What do you hope readers/people will gain from reading/seeing your work? (What do you want people to take away from your work?)
I hope people walk away with a sense that we aren't as distant from our ancestors as we may think.

What is your definition of being AsAm, if you have one?
I really think a lot of it is driven by the legacy left by parents/grandparents/etc. who first chose to immigrate and give us this chance at a better life. This, of course, has its own positives and negative effects, and I feel like these effects — whether it be the estrangement we can feel when we no longer speak the motherland language or the overwhelming familiarity of something as simple as a specific food — are at the heart of the AsAm experience.

What does writing/illustrating for this anthology mean to you?
For me, this is a chance to both connect to the experiences of others and share a part of my own. I've been meaning to create a piece exploring my AsAm identity for a long time, and I'd been carrying a single line around in my head for a long time. Seeing this anthology was that extra kick to actually get it written, and really think about my heritage in a way I hadn't before.

What food/drink most reminds you of home/childhood? Why do you think food is so important to Asian American culture?
Chinese dumplings! We used to make these from scratch as a family, and the fact that we rarely do it now makes it all the more nostalgic.

I feel food is a very communal bonding experience for Asian American culture. Food isn't just food, it's a way for us to reconnect, share, and to express/experience family intimacy. And the fact that it's both everyday and reserved for special occasions gives it this extra sense of presence; like we may be having this dish for dinner, but we're also bringing it out on the table for Lunar New Year. It's almost a way of reliving that air of togetherness and celebration, only on a daily basis.