Gude! Nem bilong mi emi Cristela Garcia-Spitz.  My pronouns are: she, her, hers.
I'm originally from Mercedes, Texas, which is just along the southern border of Texas and Mexico where the Rio Grande River runs into the Gulf of Mexico.  I'm Mexican-American, coming from recent immigrants from Mexico on my father's side and Midwestern/German roots on my mother's side (hence Garcia-Spitz). Being bi-cultural and a middle child in a large family has shaped and influenced who I am.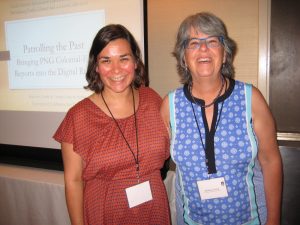 I have a background in Archives, and I came to UCSD to be a Project Manager in the Digital Library Development Program at the UC San Diego Library.  My undergraduate degree was in Anthropology, and so when I first began working here, I naturally gravitated to working on the digitization of the collections in the Melanesian Archive.  I worked alongside Kathy Creely, the Melanesian Librarian and my mentor/predecessor.  Two years ago, I took over as the Curator of the Tuzin Archive for Melanesian Anthropology.
I have been fortunate to learn a lot about the Pacific while working on several digital projects for UC San Diego Library's Oceania Collection.  However, I still have a lot more to learn and I have never had the opportunity to visit Papua New Guinea (PNG)…yet.  I look forward to collaborating with libraries, archives, universities, and other organizations and people of PNG in my new role.
I was excited to co-teach this class with Rachel Emerine Hicks, so that I can share what I have learned about the PNG Patrol Reports, and throw in some library/archival concepts too.
*Photo of Cristela Garcia-Spitz and Kathy Creely first presenting on the digitization of the Patrol Reports at the Pacific History Association conference in May 2016 on Guam, Mariana Islands.