---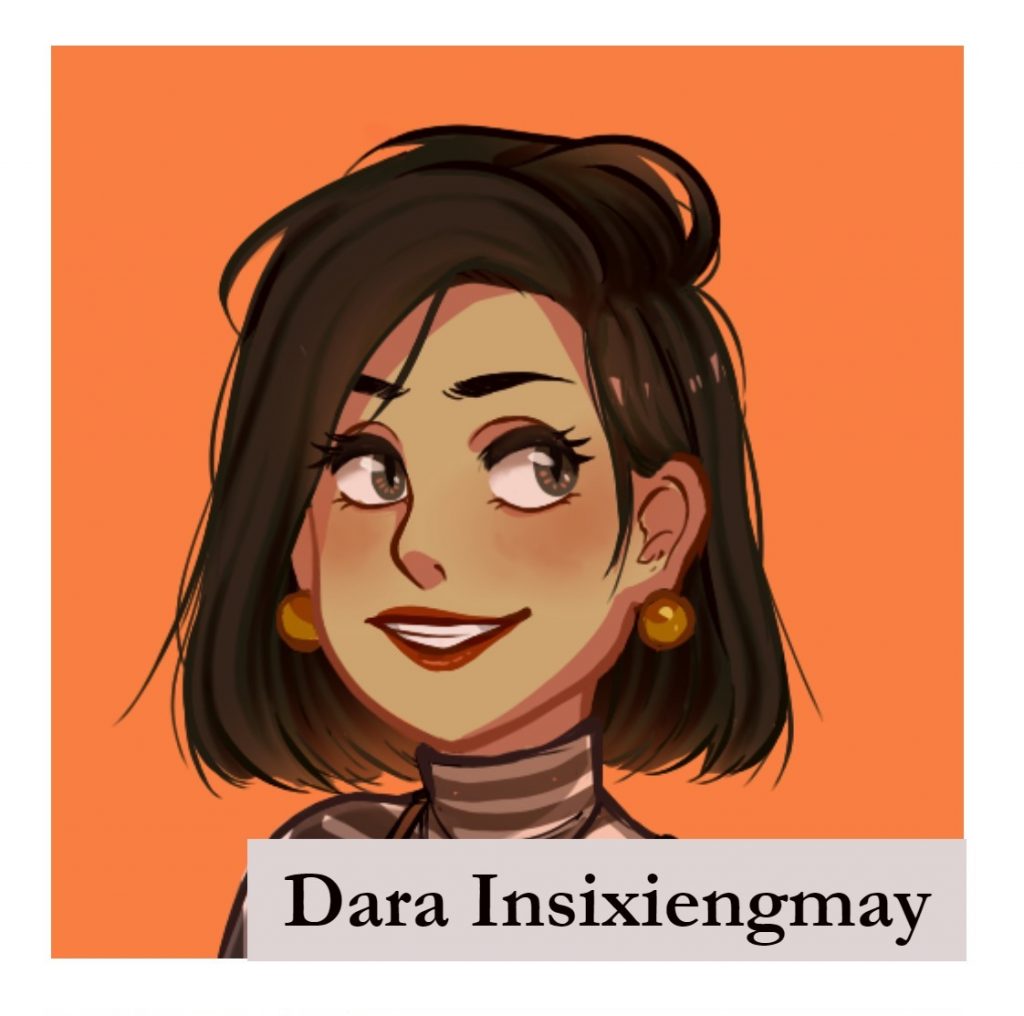 Dara discovered Legacies on Twitter and this is her first illustration publication. However, she has worked before on a Miraculous Ladybug Reanimate Collab and hopes to work on more animation shots in the future.

Below are the responses from Dara Insixiengmay's interview with Legacies Staff:

Tell us a little about yourself. Where you were born, how do you identify yourself, and what are some things you enjoy.
Hello, my name is Dara and that means "star" in Lao. I'm Laotian-American. I'm a 19 year old ace female college student studying Animation. I'm currently interested in doing Character Technical Direction particularly rigging, but I love animating both in 2D and 3D mediums. I was born in the United States and since then, I've moved around a few times on the East Coast. I'm an outdoorsy person because I live in a mountainous area so I go hiking regularly! I also enjoy watch animated shows and artsy films. Music is also a huge part of my life because I grew up playing clarinet and tenor saxophone, and I listen to a ton of it at any moment of the day. I listen to literally every single genre but my favorites would either be indie or math rock.

How did you get into illustrating or writing?
I've been drawing since I was 8 years old, because my little sister began drawing girls all the time back then and I wanted to do the same. My hobbies eventually grew to be more serious over time. Like I mean, I go to art school now haha. I enjoy illustrating on the side of animating nowadays!

How would you describe, or summarize, your submission?
"Good Luck Bracelet" depicts the moment where the monks tie yarn bracelets around your wrists in the temple. These bracelets are tied on as a monk gives you good luck incantations, to give you success as well as to celebrate the new year.

Why did you choose to write/illustrate your specific submission? (What was the significance of your submission?)
My piece "ຝ້າຍຜູກເເຂນ" or "Good Luck Bracelet" commemorates the moment where I accept wearing a piece of my culture on myself at all times. I keep these bracelets on until they are no longer wearable and it always ties me down to my Laotian culture.

What, in your opinion, were setbacks you had to face, if any, and why? (I.e. time, memory, self-righteousness, etc.)
In regards to this piece, a major setback was time haha! I'm a college student and I had a lot of my plate. I practically had to wait until finals was over before I could even finished this piece.

Was there anything you couldn't address in your submission? If so, what were they?
Originally, I wanted to make my piece all about a Laos New Year festival with all the music, dancing, people, tents, food, etc, but trying to come up with something visually appealing in a short time frame meant it was easier to focus on a single aspect of Laos New Year instead of all of it.

What were the most important things you wanted to hit on in your submission? (What did you want to highlight?)
The girl in the middle with the short hair is meant to represent myself aka an Asian American who lived their life mainly through American ideals with an Asian background. My identity is deeply rooted with my culture but I feel like it was slighted by American culture. Like for example, since my parents had to learn English, I didn't grow learning the language so I'm not fluent in speaking Lao (which I'm trying to learn myself now). I also wore regular clothes to a festival instead of the traditional garb because my parents gave away those garments since I outgrew those clothes long ago and we never saw "the need" to get new ones. That's highlighted in the girl on the foreground aka someone who probably grew up with more of a Laotian culture than I did.

What do you hope readers/people will gain from reading/seeing your work? (What do you want people to take away from your work?)
Basically an awareness that Lao Americans and our experiences exist and that we create art as well! I literally almost never see any Laotian creators so I thought it was important for me to get out there and show myself and my work more so that people know we exist.

What is your definition of being AsAm, if you have one?
Obviously, being Asian American is being born with your Asian heritage within the Americas but it's also being able to identity with your culture and to embrace it within a completely different setting. I grew up within a small Laotian community in my childhood which shaped the friends I made as well as comforted my parents who had immigrated to the US. I go to Laotian temples every year for Laos New Year every April which makes me feel as close as I possibly could to my culture without being in Laos. It's basically growing up with everything that is your culture but celebrating and embracing it in a way different to how you would in your home country, if that makes sense.

What does writing/illustrating for this anthology mean to you?
Getting published in this anthology through my illustration means a lot to me as an artist and individual. For one, I get the chance to showcase my art amongst other brilliant, talented artists who also share similar experiences of an Asian American lifestyle. I also get to create an illustration so personal to my very being, something that's representative of me and my culture. I am so glad to be sharing my art, a piece of myself, and my Laotian culture with the world.

What food/drink most reminds you of home/childhood? Why do you think food is so important to Asian American culture?
The food that reminds me most of my home, childhood, and culture would be this noodle dish called "khao peak." It's like the Asian version of chicken noodle soup to me. The noodles are made of rice and tapioca flour, and it gets put into this chicken broth. I have it all the time whenever I'm home and it's just a staple breakfast meal back in Laos. Overall, food is so important to Asian American culture because certain dishes either have this sentimental value within families or it is symbolic of the culture. It gives me a sort of pride and identity to be eating foods of my own culture and to be able to share that with others.