---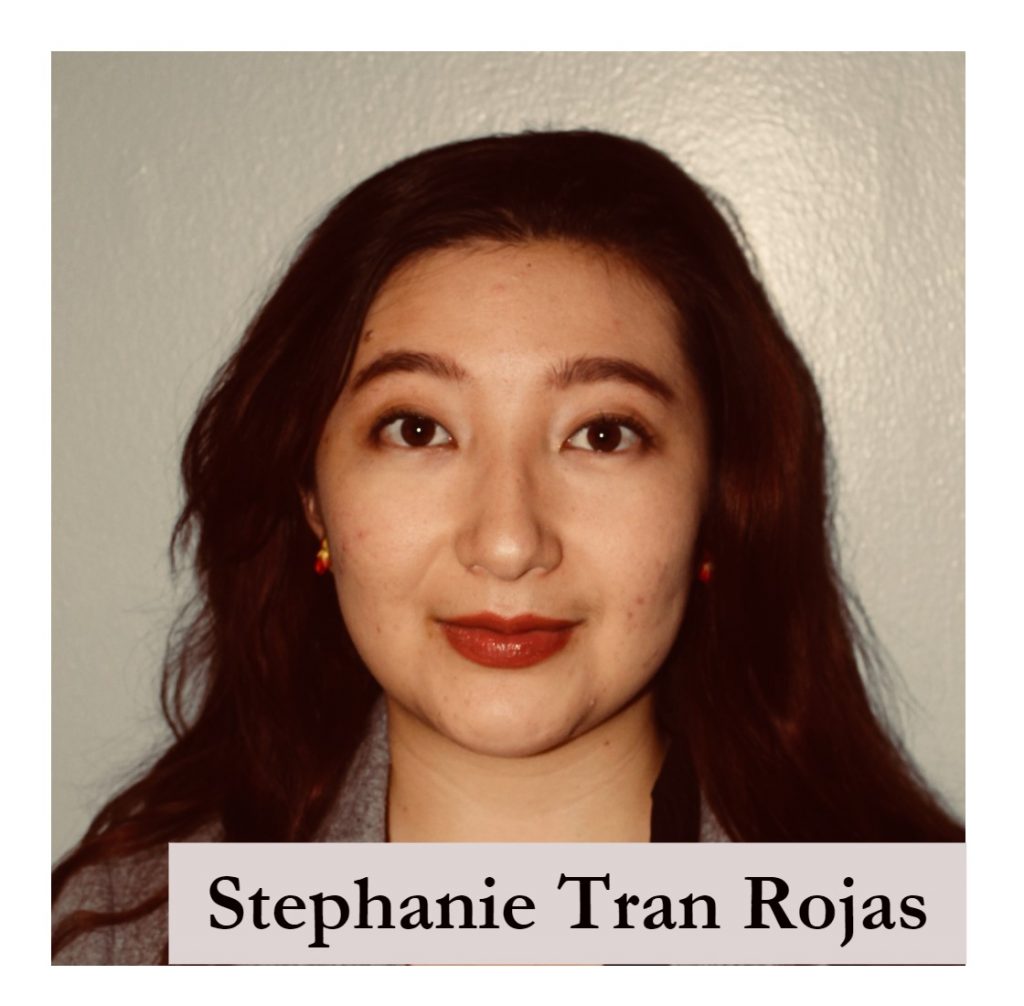 Stephanie is best friends with the creator and editor of Legacies since high school, and even elementary school for one.

Below are the responses from Stephanie Tran Rojas's interview with Legacies Staff:

Tell us a little about yourself. Where you were born, how do you identify yourself, and what are some things you enjoy.
I am from San Diego, hailing from the Mira Mesa community—the land of working middle class minorities, mainly Filipino people. I am Vietnamese-Mexican American and enjoy the ability to confuse everyone with my ethically ambiguous face.

Is this your first publication? If not, what are some other projects/works you've done?
I published a literary journal through a class effort in high school where we contributed pieces, called "In Room 623." It was nothing too formal, but it was a moment of proud for my high school self. I also published two articles this summer through the Lien Centre for Social Innovation in Singapore on various topics.

How did you get into illustrating or writing?
It started with my early dedication to school and academic achievement, as seen in my piece. From there, I started submitted photography, poetry, and essays for our PTA contests and even won some awards from it. From that and got fed English teachers, I became infatuated with powerful writing.

What inspired you to contribute to the project? (Why did you want to contribute to this project?)
I think a student created, student led platform to share experiences is powerful and needs to be supported by its community to generate the greatest impact.

Why did you choose to write/illustrate your specific submission? (What was the significance of your submission?)
I wanted to touch an issue prevalent but often untouched in the Asian and wider immigrant community.

What, in your opinion, were setbacks you had to face, if any, and why? (I.e. time, memory, self-righteousness, etc.)
It had been a while since I last wrote and dedicated regular time to writing. As a result, I often felt frustration in the lack of power and beauty my writing conveyed. Instead, it kept feeling flat and basic. It was only with constant feedback and looking back at writing material for inspiration did I feel that spark again.

What do you hope readers/people will gain from reading/seeing your work? (What do you want people to take away from your work?)
I want readers to be able to connect with my experience and be empowered to start talks of intergenerational trauma with loved ones. The healing process can look different for every individual, but communication is always necessary. The process is long and difficult but hopefully my piece can show that it is worth the effort and the payoff is priceless.

What is your definition of being AsAm, if you have one?
I think the experience can be felt by any Asian identifying person who has spent a significant amount of time in the America's and has been personally impacted by that country's ideals. When that happens, the values hangs the way you look at your own Asian culture in various subtle and explicit manners that creates the Asian American experience.

What does writing/illustrating for this anthology mean to you?
For me, this anthology means claiming a stake in my Asian community. Regardless of the complexities of my mixed identity or distant from my own cultural heritage, I want to explore my Asian American identity and community through projects like these.

What food/drink most reminds you of home/childhood? Why do you think food is so important to Asian American culture?
Food is a way you are connected to the lives of the people of the culture through the times, past and present. Food is also an emotional experience involving pleasure and connection with sharing a meal. For many people, food makes them remember loved ones and that gives it great significance. For me, a favorite meal were the fried shrimp balls stuck on crab claws I had at Chinese restaurants because they looked fun, tasted good, and looked like something I saw in a Pokémon movie.