---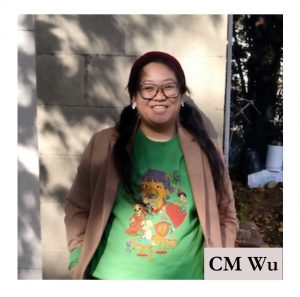 CM is born in a seaside town in Massachusetts to parents who immigrated from Hong Kong. She identifies as Chinese-American and enjoys reading, writing, embroidery, gardening, and indulging in foods as much as possible. CM discovered Legacies on Twitter and this is her first publication.

Below are the responses from CM Wu's interview with Legacies Staff:

How did you get into illustrating or writing?
I've always loved to write, probably brought on by my love of reading. There's just something very cathartic and purposeful when I'm able to put down in words the scenes that come to my mind. I think being an introverted child required me to find an outlet for all my unprocessed thoughts and emotions, and writing did that for me.

What was the hardest things to write/draw about? (I.e. revisiting a trauma, self-realization, etc.) In other words, did you struggle to write/draw a certain aspect?
I wrote this the summer that my grandmother eventually passed. If anything, I couldn't stop the words from coming. It was incredibly therapeutic.

What do you hope readers/people will gain from reading/seeing your work? (What do you want people to take away from your work?)
That even in difficult moments, we are still becoming. Keep going!

What is your definition of being AsAm, if you have one?
Constantly shifting and refocusing.

What does writing/illustrating for this anthology mean to you?
It means I'm part of a wonderful, growing community of creatives that want to see themselves in the world. I'm proud of what everyone has done, and so inspired by their passion.

What food/drink most reminds you of home/childhood? Why do you think food is so important to Asian American culture?
Choosing a food is soooo hard for me, so instead I'll go with a drink: pu erh tea. That's not only my go-to drink but I've always had fond memories of coming home from school and being able to pour myself a steaming hot cup right out of the thermos.
Food is incredibly important to me. My grandmother lived her adolescence during WWII so she imparted on me to never waste anything! Her resourcefulness really left an impression on me. I think this speaks to the spirit of Asian-Americans: to survive and live with integrity, don't waste anything.