At each visit, participants were sent a detailed questionnaire to complete at home; answers were reviewed during the clinic visit. The questionnaires asked about a variety of health behaviors. The level of detail varied across visits. See the data dictionary for more detailed information on questions asked at each visit.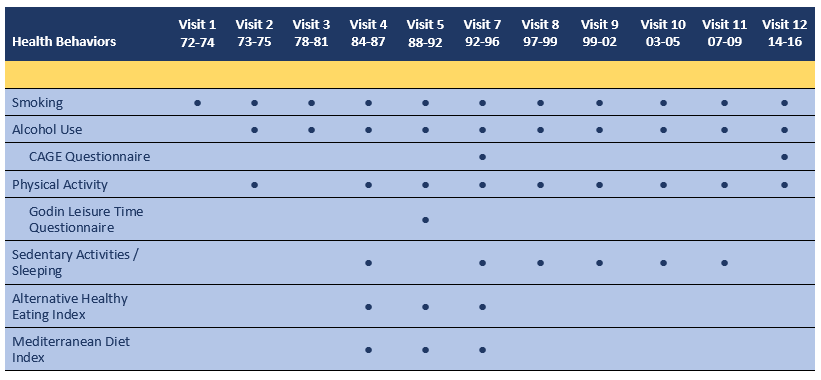 Smoking – At most visits participants were asked if they ever smoked cigarettes, smoked cigarettes currently, number of cigarettes smoked per day, and numbers of years they smoked cigarettes. Additional questions on smoking history were asked at Visit 5. At Visit 3 participants were also queried about pipe or cigar smoking.
Alcohol – At all visits except Visit 1 participants were asked whether they drank alcohol in the past year, and if so, they were asked about drinking frequency, type of beverage consumed and amount consumed. The Cage questionnaire1 was administered at Visits 7 and 12. Visit 12 has additional detailed questions on drinking history.
Physical Activity. In almost all visits, participants were asked whether they engaged in regular physical activity 3 or more times per week. They were also asked about frequency and duration of performing a number of different types of activities. A modified version of the Godin-Leisure Time Exercise Questionnaire2 was administered at Visit 5. This questionnaire asked about frequency of engaging in strenuous, moderate and light physical activity currently, and at ages 50, 30 and as a teenager.
Sedentary Activities/Sleeping. In several visits, participants were asked to indicate how many hours they spent napping, sleeping, sitting, and relaxing.
Diet. At Visits 4, 5 and 7, participants completed the 153-item Willett Food Frequency Questionnaire (FFQ)3. The Alternative Healthy Eating Index (aHEI) and an alternative Mediterranean Diet Index (aMED) were derived as described4.
Annual Mailer Health Behaviors Data
A variety of health behaviors were also queried via the Annual Mailers including extensive and varied questions on diet and eating behaviors; alcohol, physical activity, and sleep; and use of vitamins and nutritional supplements. The Pittsburgh Sleep Quality Inventory (PSQI)5 was included in Mailer 25 (2008) and Mailer 27 (2010).
Note: Annual Mailer data are available in individual cross-sectional datasets for each Mailer and are not included in the Health Behaviors longitudinal data set. See the Annual Mailers tab for details.
1. Ewing JA. Detecting alcoholism. The CAGE questionnaire. JAMA. 1984;252(14):1905-7.
2. Godin, G., Shephard, R. J. (1997) Godin Leisure-Time Exercise Questionnaire. Medicine and Science in Sports and Exercise. 29 June Supplement: S36-S38.
3. Rimm EB, Giovannucci EL, Stampfer MJ, Colditz GA, Litin LB, Willett WC (1992) Reproducibility and validity of an expanded self-administered semiquantitative food frequency questionnaire among male health professionals. Am. J. Epidemiol. 135, 1114–1126
4. Richard EL, Laughlin GA, Kritz-Silverstein D, Reas ET, Barrett-Connor E, McEvoy LK. Dietary Patterns and Cognitive Function among Older Community-Dwelling Adults. Nutrients. 2018 Aug 14;10(8). pii: E1088. doi: 10.3390/nu100810885.
5. Buysse DJ, Reynolds, CF, Monk TH, Berman SR, Kupfer DJ. The Pittsburgh Sleep Quality Index: A new instrument for psychiatric practice and research. Psychiatry Res. 1988;28:193-213.